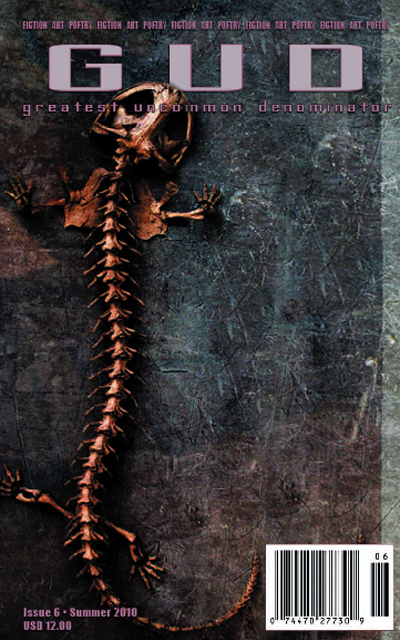 GUD Vault
Issue 6 :: Summer 2010
Issue 6 bounds onto the scene with a bright and blooming selection of prose, poetry, and art. Whether it's old tales retold with a new face, like an irreverent version of Sleeping Beauty, or a tale of renewal on the Wheel of Life, Issue 6 has a fresh feel to it. We're stepping through doors into unexpected places, washing our brains clean of memories, and getting a shiny coat of paint.
As always, GUD brings you the cream: haunting stories, evocative poetry, and art that you'll want to frame and hang on the wall. Issue 6 has a fantastic alternate history from Lou Antonelli that'll make you look at US/Irish connections in a whole new way. Issue 6 has weird and wonderful art from Andy B. Clarkson. Issue 6 has poetry from Rose Lemberg and Jim Pascual Agustin. Issue 6 has...way too much to summarise.
It's all in GUD Issue 6. Come get it.
BUY NOW—$3.50 PDF, $12 Print
or download teaser epub...
stories
poetry
art
---
Other works by or including our contributors this issue: