News: Slushing Away
Monday, November 16, 2009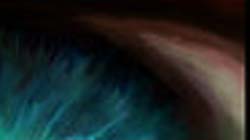 GUD is closing to submissions from today (Monday November 16th) until the 11th January 2010 (also a Monday). If you didn't see the red CLOSED notice when you submitted, then your submission is fine. If you did see the notice, then what were you doing submitting anyway? :D. But Don't Panic! Issue 7 isn't closed. We're just giving ourselves a breathing space to work on wonderful, shiny, forthcoming Issue 5.
The Fall 2009 issue of GUD is coming on apace. Contracts are in, and we're now frantically copy-editing and preparing for layout. We have awesome cover art from MichaelO and GUD layout editor Sue Miller is creating an eye-catching cover that we think you'll love. Check out the sneak peek above.
We also thought we'd like to give you a taster of some of the contents from Issue 5. Just a nibble to whet your appetites. So here it is!
Imperfect Verse, an exciting Fantasy story by Rose Lemberg:
I said to my father, "Circle my waist with a frost-biting sword and send me to battle the Aesir."

"I won't let you run around with a blade like some boy." King of the giants, he towered above the warriors and the winter-weary retainers crowding our hall. "Learn dignity." He constricted my brow with circlets, wound spirals of soft red gold round my arms. "It was a mistake to name you Battle-Adornment, my daughter. Stay at home."
The Grammar of Desire, a wickedly clever poem by Paul J. Kocak:
Commanded to diagram a sentence,
I was too afraid, in seventh grade, to walk to the blackboard....
And there's so much more. Stories by Steven J. Dines and T. F. Davenport. Poetry by Alicia Adams, Zac Carter, Lucy Snyder, and Tammy Ho Lai-Ming. A script--Sweet Melodrama--by Tristan D'Agosta. Comics from Sydney Padua and Joseph Calabrese & Harsho Mohan Chattoraj. Art by Richard Kadrey and Jerry Goins. And more and more and more....
So when we've closed slush, rest assured we won't be putting our feet up and sipping Mai Tais. We'll be editing, polishing, laying out, and perfecting GUD ISSUE FIVE.
- reddit, digg, facebook, stumbleupon, etc... please! ;)
3 comments; 5 subscribers
Do you have a comment? Log in or Register; registration is quick, painless, free, and spam-free (unless you ask for it)