News: More GUD Love (and some miscounting)
Monday, October 5, 2009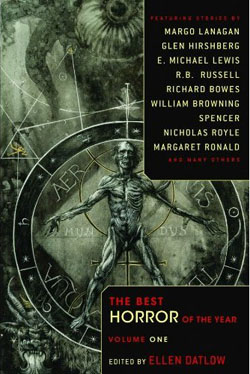 GUD has just nominated Ian McHugh's Stiletto (Issue 4) for an Aurealis Award. You may remember Kirstyn McDermott's Painlessness (Issue 2) won the Best Horror Short story for 2008. Ian's story has been nominated in the Science Fiction category, and we think it stands a good chance :).
This seems therefore like a good time to share with you more of the love that's out there for our eclectic genre/literary magazine.
In Gardner Dozois's 'The Year's Best Science Fiction: Twenty-Sixth Annual Collection'*, GUD received two Honorable Mentions. At first, when we thought we'd got one, we were as happy as clams. When it emerged we had two, we were as happy as...well, a whole bed of clams. It's tough for a small, relatively-young magazine to get its name out there, and we're grateful for all the great help we get.
(In our defence, the Dozois anthology got Neal Blaikie's forename wrong, listing him as 'Moal'.)
The Honorable Mentions were for Neal Blaikie's Offworld Friends are Best (Issue 2) and Night Bird Soaring by T.L. Morganfield (Issue 3). Night Bird Soaring is still in the running for Nebula recommendations, and so is available to read in full, free, here on our site, by kind permission of the author.
Then, when details of Ellen Datlow's long-awaited anthology Best Horror of the Year Volume 1 came out, we are delighted to see we had three Honorable Mentions.
Except once again we were doing ourselves down. We didn't have three. We had six. We really must pay more attention when the love's being dished out.
Ellen Datlow singled out for Honorable Mention:

Think Fast by Michael Greenhut (Issue 3)
The Festival of Colour by Paul Richard Haines (Issue 2)
Hepatocellular Carcinoma. Stage IV by Samantha Henderson (Issue 2)
Painlessness by Kirstyn McDermott (Issue 2)
Dolls by Kristin Ong Muslim (Issue 2)
Closer in my Heart to Thee by Jeffrey Somers (Issue 2)
Sometimes it's interesting to go back and look at the staff comments on stories that went on to be singled out for praise. I see that on Painlessness I wrote, "Well. At last, a decent story. I'd begun to give up hope." Kaolin, on the other hand, had this to say, "I love where it goes, what it does, but FUCK. Intense. I was squirming through bits of it." Sal thought the story "awesome" when he chose it for his issue. And so it is!
It's also wonderful to see the poetry in GUD receiving the attention it deserves--all too often it gets overlooked by the critics.
Remember: you can buy a single .pdf of any story, poem, art, comic, script, or report that appears in any issue of GUD Magazine. Or buy whole issues in either print or .pdf. Treat yourself today and find out what Gardner Dozois and Ellen Datlow think we're doing right!
* Published in the UK as 'The Mammoth Book of Best New SF 22'.
- reddit, digg, facebook, stumbleupon, etc... please! ;)
0 comments; 2 subscribers
Do you have a comment? Log in or Register; registration is quick, painless, free, and spam-free (unless you ask for it)