News: Issue 6 is ready for you!
Friday, September 17, 2010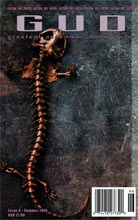 Issue 6 of GUD Magazine will be wending its way to the printers very soon, so now would be a great time to get in your pre-orders.
You've already had a glimpse of the outstanding cover by Dave Migman, and a chance to browse through the teasers for every piece on offer in this new issue. Maybe you've even bought a .pdf (singletons of 'In The Garden of Rust and Salt' have been very popular) and now you want to see the gorgeous artwork and crisp text in a form that doesn't require batteries.
GUD #6 has stories by Aliette de Bodard, Lou Antonelli, Caroline Yoachim, and Lavie Tidhar (and more). GUD #6 has poetry from Jennifer Jerome, Tara Deal, and Jim Pascual Agustin (and more). GUD #6 has Aunia Kahn and Andy B. Clarkson's art (and more). GUD #6 has 200 pages of art, fiction, and poetry. Not to mention that every issue comes with @littlefluffycat.
Pre-order a print copy of GUD Magazine Issue 6 today. It's human-powered, won't break if you drop it, and is guaranteed never to be deleted from your brain.
$12 for one issue--or save a few bucks and get a two-issue or four-issue subscription!
* if you're not a fan of hardcopy or PDF we're also going to be offering epub directly with this issue! Just need a few more tweaks to make the issue instigator happy!
- reddit, digg, facebook, stumbleupon, etc... please! ;)
2 comments; 2 subscribers
Do you have a comment? Log in or Register; registration is quick, painless, free, and spam-free (unless you ask for it)