News: Issue 3's at the printers
Thursday, July 31, 2008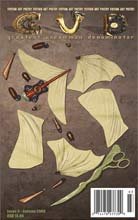 The (self-referential) Pre-launch Buzz Contest is over: BUT the love is still spreading, so we're extending it with a few more prizes.
Issue 3 has gone to the printers and we should be seeing a proof any day now. We'll make Issue 3 available to order as soon as we've approved the proof, because that's the last hurdle of real variability.
The last _5_ entries as per the rules in the (self-referential) Pre-launch Buzz Contest (entries will only be accepted on _that_ post) will then be declared the second round of winners--the last entry will receive a print copy of issue 3 and the other four will receive PDFs.
SO KEEP SPREADING THE WORD! :D
Our grand prize winner of print copies of Issues 0-3 (inclusive) is jcvandez--we'll be shipping those as a bundle as soon as Issue 3 is ready.
Winners of the "first ten posters", as I've counted (skipping our contributors and reviewers):

1) oddity
2) lordkertaz
3) erinmh
4) iwill
5) asimmum
6) poveyj
7) scifiwritir
8) zanzjan
9) kathi430
10) xanthalanari
Thank you all for your entries and your help with spreading the GUD love =)
UPDATE: And now the winners of the "it's not over yet!"
1) Sheila Crosby
2) gifford
3) pottygok
4) Vanessa
5) nadirsup
Sheila wins the hardcopy of Issue 3, while gifford, pottygok, Vanessa, and nadirsup will be receing PDFs via email. Thank you to everyone who entered, and congratulations to our winners!
Even though the contest is really over, now, please keep spreading the word!
- reddit, digg, facebook, stumbleupon, etc... please! ;)
3 comments; 2 subscribers
Do you have a comment? Log in or Register; registration is quick, painless, free, and spam-free (unless you ask for it)